A Lifetime in Cricket (Part Four)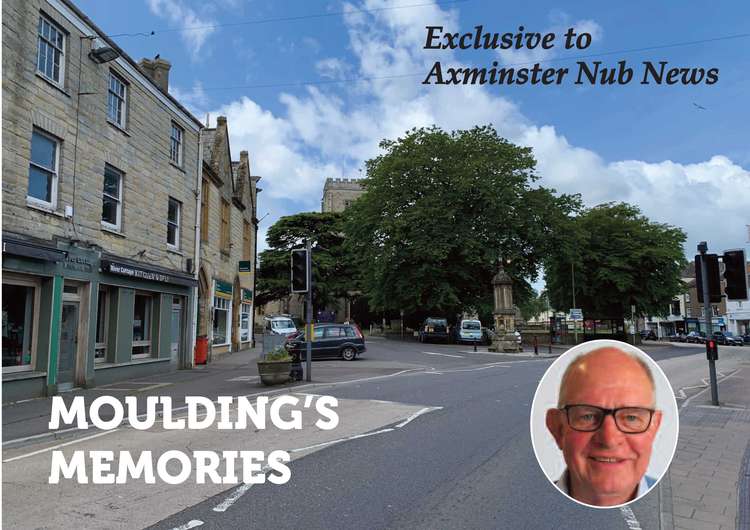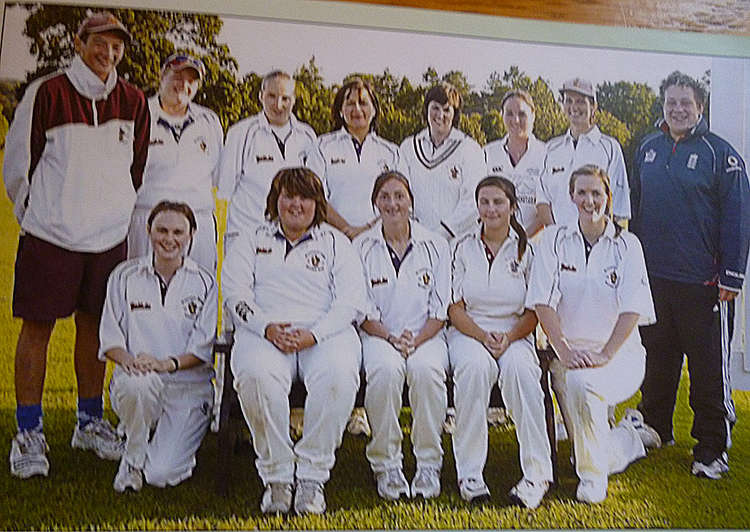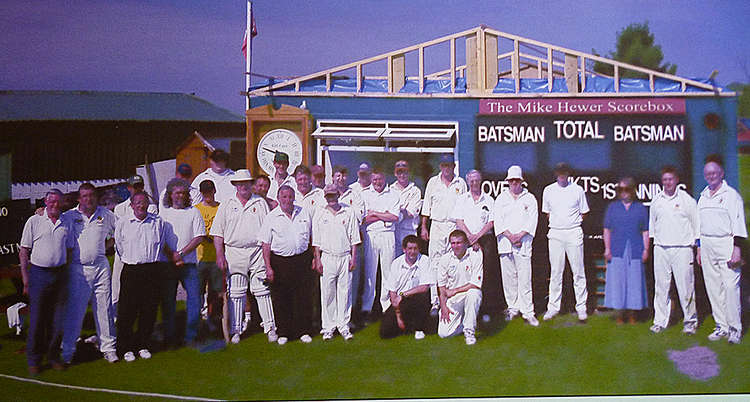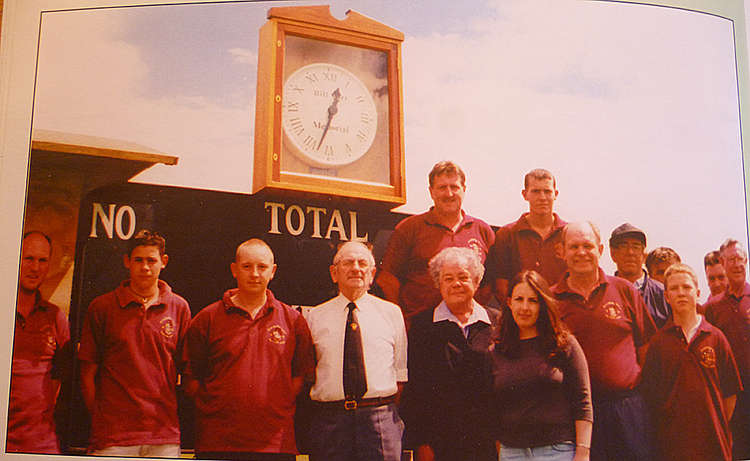 In Part Three of "A Lifetime in cricket" I mentioned that the development to the north of Cloakham Lawn Sports Centre had become a distinct possibility, although the introduction of rugby on this field had not come to fruition.
However, with the increased demand for 3rd and 4th XI cricket, there was a fantastic opportunity to develop a second cricket ground on Harry's Field, so named, in the memory of Harry Dutfield, who had revived the manufacture of carpets in Axminster and had also provided us with the possibility of creating a multi-sports centre at Cloakham Lawns.
Harry's Field
Through the generous endeavours of Harry's son, Simon Dutfield, the lease arrangements were completed and work commenced on establishing a cricket ground on Harry's Field.
The whole project was overseen by Phil Spong, who also acquired the assistance of a former Axminster cricketer Michael Hankey, who in the early 2000s played an important part in the evolution of cricket facilities at Cloakham.
Another Axminster cricketer who joined the management team at that time was John Cloke, who we had first met whilst enjoying evening matches against the Allhallows Common Room where John was a schoolmaster. John was installed as the financial manager at Cloakham Lawn Sports Centre and has played a crucial role in that position for the past 20 years.
The first task faced by Phil Spong and his helpers was to level the cricket field, by gaining permission to import a huge amount of subsoil, to create the levels required.
Fortunately, we had a good depth of fine topsoil, but we needed hundreds of tons of imported subsoil. However, part of the criteria for obtaining the lease from Axminster Carpets was the need for us to accept subsoil accrued from the excavation of ground at the Carpet factory's headquarters at Gamberlake.
There was certainly no shortage of subsoil, although the clay-rich soil from Gamberlake was not exactly what we wanted. However, following several days of moving excavated material around the site, the sports field was well prepared.
Axminster Town Cricket Club had acquired Clubmark accreditation in 2003 - one of the first clubs in Devon to achieve that status. This put us in a strong position to apply for funding, particularly from the Community Club Development Fund, which was able to provide a substantial grant for laying the new cricket square. This technical work was overseen by the Sports Turf Research Institute and the cricket square was formed in 2006.
The first match on Harry's field took place in 2008, with the official opening in 2009, when a Devon team, including a young Lewis Gregory, played against an Axminster representative team, which included first team players, fourth team players and colts.
Further developments at Cloakham Lawns
Following a satisfactory inspection of the new cricket square on Harry' Field, Axminster Town Cricket Club moved forward with a range of new initiatives. There was a keen desire to start women and girls cricket at the club, which had now become a distinct possibility thanks to the considerable enthusiasm of Sue Brown, Maggie Wynn, Julie Gordon and Angie Prior. The captain of the inaugural team was Kirsty Wackley and the coaches were Dan Murnane and the late Ryan Walker.
I mentioned previously that Mike Hankey had made a considerable contribution towards the development of Harry's field, by assisting Phil Spong, planting fruit trees around the new ground and managing the construction of the new scorebox. Mike Hankey was an extremely generous contributor, in terms of time and funding, as members of Lyme Regis Golf Club, where Michael now spends a great deal of his time and energy, will appreciate.
The new scorebox was constructed by a group of willing volunteers, under Mike Hankey's leadership and named "The Mike Hewer Scorebox" in the memory of a well-respected schoolteacher who had passed away soon after retiring, when he had so many ideas for the growth of the club.
The club also lost Brian Perry who had played for Axminster Cricket Club for many years and had become one of the most respected umpires on the league circuit.
I mentioned earlier that the late Ryan Walker had assisted with the development of women and girls cricket. Ryan was a delightful young man, a good cricketer and fine supporter of club activity, who died suddenly from an asthma attack – a condition that poor Ryan had suffered from for many years.
Further developments within the cricket club in more recent years, assisted by substantial grant aid, included the installation of a borehole for water harvesting, eliminating the high cost of using mains water. The club also received a grant towards the acquisition of wicket covers, which have been an essential feature in providing regular, good quality cricket.
Cricketforce!
A number of projects undertaken by Axminster Town Cricket Club, including the Mike Hewer Scorebox, have been assisted by the Nat West Cricketforce scheme. This enabled the club to promote significant projects, well supported by local businesses, but also encouraged the club to carry out vital tasks at the start of each season.
These include refurbishing the practice nets, painting the sightscreens, decorating the changing rooms, tidying up the surrounds of the ground, etc. Cricketforce is usually supplemented by a constant supply of tea and coffee, cold drinks in hot weather and the inevitable hot dogs and beef-burgers from the barbecue.
The OSCA's
Another annual initiative promoted by the England & Wales Cricket Board was the presentation of the OSCA's (Outstanding Service to Cricket Award). In recognition of his work in pioneering the move to Cloakham Lawns from North Street and the creation of the new cricket ground on Harry's Field, the club was delighted when, in 2007, Philip Spong was awarded a national OSCA for his fantastic contribution to Axminster Town Cricket Club.
In 2009, Phil was able to pass over the reins of groundsman to Brian Prior, who has been excellent, under the initial tutorage of Phil Spong, in order to maintain the extremely high standard of cricket facilities provided by the club. Willing volunteers, such as Peter Kiy, Andy Harris, Alfie Wraight, Ben Webb and others also assist, together with Emma Jarvis who does a fantastic job on the surrounds of the field.
Millwey Rise Football Club
Following lengthy discussions over many years with Axminster Town Football Club in considering a move to Cloakham Lawns, the Tigers finally formed a deal with Devonshire Homes and land-owner Nigel Burton and relocated to Tiger Way, where they have produced excellent football facilities, following their move from Sector Lane.
During the period, when Cloakham Lawn Sports Centre was looking at options for Harry's Field, investigations were taking place to contemplate how winter sports could be played on land which was located on the edge of a floodplain. There was no doubt that this could be a possibility, as long as the right advice regarding drainage was observed.
As mentioned previously, it wasn't possible to make the necessary arrangements for rugby and in order to enable "all-year-round" sport to be played at Cloakham Lawns, conversations were taking place with Millwey Rise Football Club. These discussions involved myself, Ian Hall and Doug Thompson (representing Millwey Rise Football Club) and the late Peter Baulch, as a very "hands-on" President of Cloakham Lawn Sports Centre.
We were fortunate at the time these deliberations were taking place, in bidding successfully for "Section 106" grant funding, which enabled a comprehensive drainage scheme to be installed on Harry's Field. Once established, this would enable cricket to be played in the summer and football to be played on the outfield of the cricket ground in the winter.
In September 2011, Millwey Ris Football Club announced its move to Cloakham Lawns by playing a celebratory match, in readiness for playing league football at Cloakham in the year 2012. The move had gone really well, with benefits for all concerned. Thankfully, the arrangements for the change-over between cricket and football at the end of the respective seasons were brokered amicably.
Millwey Rise Football Club, previously nick-named "The Slopers", owing to the steep incline on their former First Avenue pitch, were able to enjoy excellent playing and changing facilities and have been a splendid addition to the sport being played at Cloakham Lawns.
As years moved on, a number of changes took place at Cloakham Lawn Sports Centre. Bob Wallis, who had been the manager of the centre for some while, stood down and a new chairman was elected in the form of Ian Hall. Following the sad illness and passing away of Peter Baulch, I was elected as president, which was a great honour for me, following a long period of time as chairman.
Peter Hayball had managed the bar for some while, followed by Ron Bicknell, Julie North and now Joanne Flint, who together with her husband Simon, are first class bar operators. All of our bar staff have served the centre well and provided excellent service to Axminster Town Cricket Club and all the other sports at Cloakham Lawns.
Changes of fortune for the cricket club
In the early part of the new millennium, the club were riding high in the Devon Cricket League and as mentioned in a previous edition of Moulding's Memories, the first team could have possibly been promoted to the Premier League. However, they were thwarted by Foot and Mouth Disease, which prevented promotion in the 2001 season. In 2002, the club were delighted to be running four teams, one of only a handful of clubs in Devon ro do so.
However, over the years, the club's playing fortunes have declined, with relegations taking place on a regular basis. There has been a national downturn in cricket participation since 2006, when cricket has no longer been shown regularly on terrestrial television. This has ultimately resulted in the fourth eleven being disbanded in 2011, followed by a similar fate for the third team in 2017.
The club is indeed fortunate that it still runs two teams, which is in no small part due to the work of our coaching team, in producing a regular stream of high quality young players, making their way into the senior teams. We must record a debt of gratitude for this to our senior coaches – Dan Murnane, Mark Burrough and their coaching teams.
Axminster Ladies
I mentioned earlier that the Axminster Women's cricket team was formed in 2006, with mixed results in the early days. However by 2016, the women's team was producing some really good cricket, with important contributions from our coaching team and the team's manager, Sue Elsworth. Sue had put together a squad which involved a number of high quality local young players, augmented by those young ladies from further afield, who could see the potential in the Axminster Cricket Club's women's team.
By 2017 the women's team had been promoted to the First Division and, lo and behold, Axminster Women became Devon Champions in 2018 – a fantastic result, with a number of Axminster ladies being selected to play for the county team at senior and junior level.
Unfortunately, a significant number of our good young players moved away, went to university or discovered other interests and currently, Axminster does not have a women's team. However, a few of the ladies play senior cricket in the men's teams – and through the excellent coaching sessions, run by Mark Burrough, there is hope that some of the girls who love cricket, will enable a women and girls team to emerge in the future.
Illustrious Opponents
There is no doubt that one of the facets we all enjoy when playing cricket, is the nature and character of the opponents we face. We meet them on a regular, or annual basis and we socialise with them over a drink or two following the end of play.
For me, playing local cricket, against local opponents is the epitome of club cricket. I find it difficult to understand why we would want to travel (as our teams are now forced to do) to North Devon to play Saturday afternoon cricket. This involves a round trip of about 150 miles, leaving early, returning late and playing against opponents who we don't really know. I'm afraid league cricket has a lot to answer for.
In recalling memorable opponents and quirky incidents that occurred, I will start with the local teams and then move on to those further afield.
Kilmington the Old Enemy from just up the road
Inevitably, players have regularly floated between Axminster and Kilmington, although the players we probably missed most were Michael Marsh and Tony Rockett.
Michael Marsh moved to live in Kilmington, within a couple of hundred yards of the ground and it was therefore inevitable that he would play cricket for Kilmington. As a batsman of immense ability, having represented Devon, Michael Marsh was sorely missed by Axminster. In recent years, Michael moved back to live in Axminster, but now in his eighties, he probably feels that plying his batsmanship trade at Cloakham Lawns is beyond him.
Tony Rockett's family also resided in Kilmington, where Tony's wife Audrey lived. Audrey's father, Dick Pound was an umpire for Kilmington and her brother, Richard, also played for Kilmington. Playing for Axminster against Tony Rockett at Kilmington was a harrowing experience, mostly involving the retrieving of cricket balls from the bowling green, or even the Old Inn car park. Tony's son Keith and his three grandsons have all played for both Axminster and Kilmington.
I remember many years ago playing against Jack Lavender – a dogged batsman who was difficult to dislodge. In more recent years, Jack's two sons, Johnny and David, have often starred against Axminster - Johnny amassing runs and David taking wickets. All the Lavenders have been wonderful servants to Kilmington CC, ensuring that the delightful village ground is an absolute picture, with superb playing characteristics and fabulous teas from Mrs May Lavender.
I also remember Derek Broom, a very steady medium-pace bowler; Chris Bolton – a useful batsman and good friend; Dudley Hurford, keeping his eye on the ground from his vantage point at the village shop and Mike Wallis, a cunning spin-bowler who ran both a sports shop and wine-shop in Axminster.
Another good friend at Kilmington was Michael Collier, who I knew from schooldays. Occasionally, as a local farmer, Michael would disappear from the field at about 6.30 pm to milk the cows. I also have nightmares about James Kirkcaldie, another crafty spin-bowler who always seemed to bag my wicket.
We also had our moments with Roger Cornelius, who opened the batting for Kilmington and kept wicket. There was a particular incident, when Phil Spong was at the crease, with Roger keeping wicket. Phil was usually the prized wicket of most of our opponents and Roger was probably giving him a few verbals from close-up behind the stumps. The ball fizzed past the outside edge, into Roger's gloves and there was a pregnant pause, whilst Roger waited for Phil to gather himself and start to wander down the pitch. Off came the bails, with a loud appeal from Roger, which I don't believe was supported by the other members of the Kilmington team. Believe it or not, the umpire gave Phil out to the absolute disbelief of us all. Philip was NOT A HAPPY BUNNY – and for a while it looked like the game could be called off. Thankfully, this did not happen, although Phil remained back in the hutch.
Another incident involving an umpire concerned the lovely Harry Pape, an umpire for Kilmington for many years. Peter Hayball was at the crease for Axminster and was another prized wicket, if they could winkle him ot before he created carnage with his big hitting. At the time, I was in the middle, as non-striker, alongside umpire Harry Pape. Both Harry and I thought we heard a slight sound after the bowler had delivered the ball – but nobody else on the fielding side seemed to hear anything. It appeared to me that Peter had got a slight edge. Again there was a deathly hush, before Harry called out "Is anybody appealing, 'coz if they do – he's out!!". As you can imagine, the Kilmington players were too embarrassed to appeal – and Peter continued his innings.
All Saints - village cricket at its best
My first real experience of playing any sort of senior cricket was at All Saints. I was about 14- years-old and although I had played school cricket, I had never played on a club ground, against adult players. R Moulding & Sons Ltd had arranged a match against All Saints CC and my father had drafted me in to play. It was my turn to bat and the bowler was Peter Reed, a powerful young man, who had opened the bowling for All Saints for a couple of seasons.
I faced a couple of balls reasonably confidently, although the pace of Peter Reed's bowling was somewhat quicker than I had faced before. The next ball rose up from just short of a length and pole-axed me. It hit me right on the nose, drawing plenty of blood and causing me to see stars. I retired hurt, although I soon came round from the blow I had received. However, on arriving home later that evening my mother noticed that my nose was not only a mess but out of shape. A trip to the doctor's the following morning confirmed that I had a broken nose, with nothing that could be done about it – other than a permanent change in my appearance.
The reason that R Moulding & Sons had arranged a match with All Saints was that the late John Smith, one of our site foremen, was the groundsman and a senior player for the village side. John Smith was a wily old spin bowler, who took buckets of wickets for All Saints. John also managed the building of the new pavilion at All Saints, an excellent project, which replaced the old pavilion at the top end of the ground. Although cricket has ceased, the building is now used as a community facility for the villages of All Saints and Smallridge.
I also remember Ray Hoare, a hard hitting left-handed batsman; Cliff Farmer – a consistent run scorer; useful medium pace bowler Russell Collins; cultured batsman George Tatham; wicketkeeper Paddy Gillingham and Martin Board, who as a young man was a decidedly swift bowler and hard-hitting batsman. In the latter years of All Saints CC, a plunderer of runs for the club, particularly in league cricket was Phil Bowers-Tolley.
However, a stalwart of All Saints cricket was Brian Sweetland, metronomic medium pace bowler and useful batsman, who, together with his wife Ann, looked after the day-to-day running of the club. Ann was scorer for as long as I can remember.
Another good reason for recalling cricket at All Saints was that in 1990, I scored my only century for Axminster in the 2nd XI against All Saints, whose bowlers that day included Russell Collins, a young David Hayball (who now plays for Axminster) and the veteran Gerald Marsh, who played for Axminster for many years.
The next edition of "Moulding's Memories" will be Part Five of a Lifetime in Cricket. This will include more memorable opponents and the wacky fund-raising and drinking habits of Axminster Town Cricket Club.