Celebrating new captains at Axe Cliff
---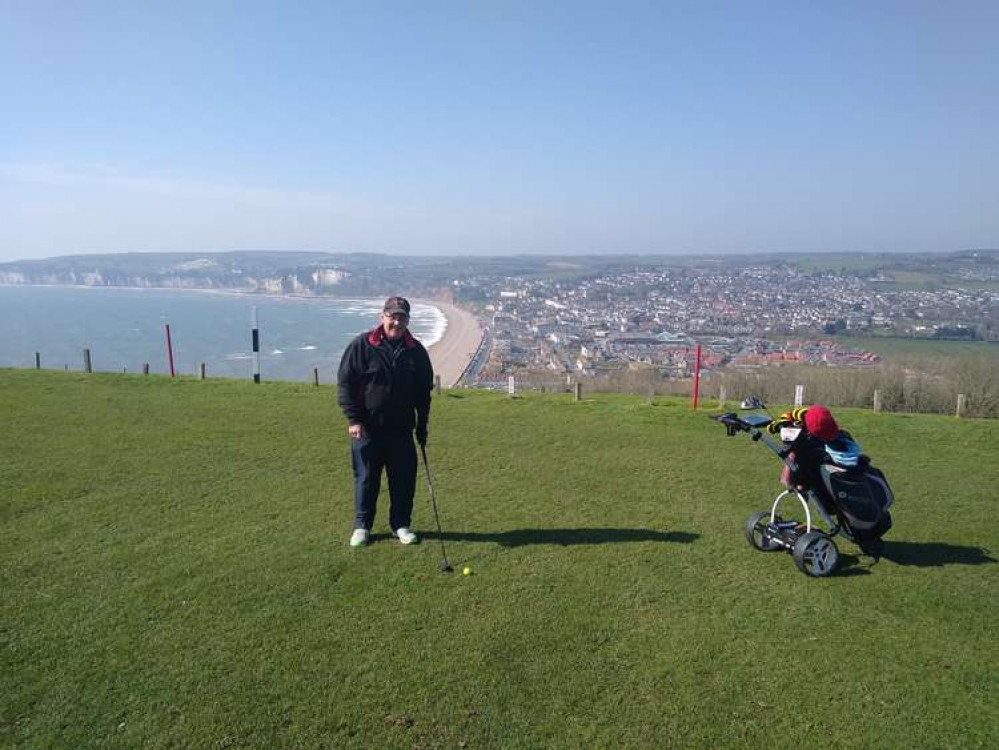 David Lacey, new Seniors' captain at Axe Cliff, pictured after excellent drive on the famous 344-yard hole. Photo by Jo Hopgood
It was a busy week at Axe Cliff Golf Club Club once the weather changed for the better.
The Seniors played their popular "Famous Golfers " fun game in glorious weather last Friday. Each player was selected to represent a famous golfer before going out to play in groups of three.
The choice was Phil Mickelson, Rory Mcilroy or Nick Faldo. If there was a picture on the green of your golfer, then you doubled your stableford score. If not, then
normal stableford points simply count. Played as an individual competition off full handicap but your points also counted towards your "Famous Golfer" overall team score. Extra points for the Ryder Cup were added once your cards where handed in as a bonus. It was a close fight with Team Nick winning with 747 points, just edging it from Team Phil with 729, leaving Team Rory last with 698 points. The best individuals were Roger Hill with a very good score of 82 points, followed by John Hanna on 75. Not surprisingly, they were both on Team Phil. Tony Snell also did well with 75 points on Rory's team. Grateful thanks to our captain David Lacey for collating all the cards back in the clubhouse. On Saturday, another glorious day, although quite windy, saw an excellent turn-out for the Annual Captains' Drive in celebration of the selection of the three new captains. for the year ahead: Harvey Gibbons for the Men's Section, David Lacey for the Seniors. Sadly the new Ladies captain, Paula Heasman, was not able to attend as she has Covid. Jo Hopgood ably stood in for Paula and we all wish Paula a speedy and full recovery. Jo was able to take the attached photo of David's excellent drive on the famous 344-yard hole 16, leaving him with a simple sand iron shot to the green. Most people have to lag up to this position with their second shot! Everyone enjoyed great catering and lovely prizes in the clubhouse after their shotgun start at 8.30 am, enabling them to all finish close together. Sunday was also a bright sunny one but probably an even more brisk wind making good scoring challenging but not for good golfers Stuart Mackie, Paul Clode and Matt Hall who won Division One with respective scores of 74,75 and 76. Very similar scoring also seen in Division Two won by Brian Waller (74) from Paul Hankin (75) with Dean Hodder taking third place, on countback.