EXCLUSIVE INTERVIEW WITH MANAGER DAN PRETTEJOHN: Axminster Town capable of beating last season's top-six position
---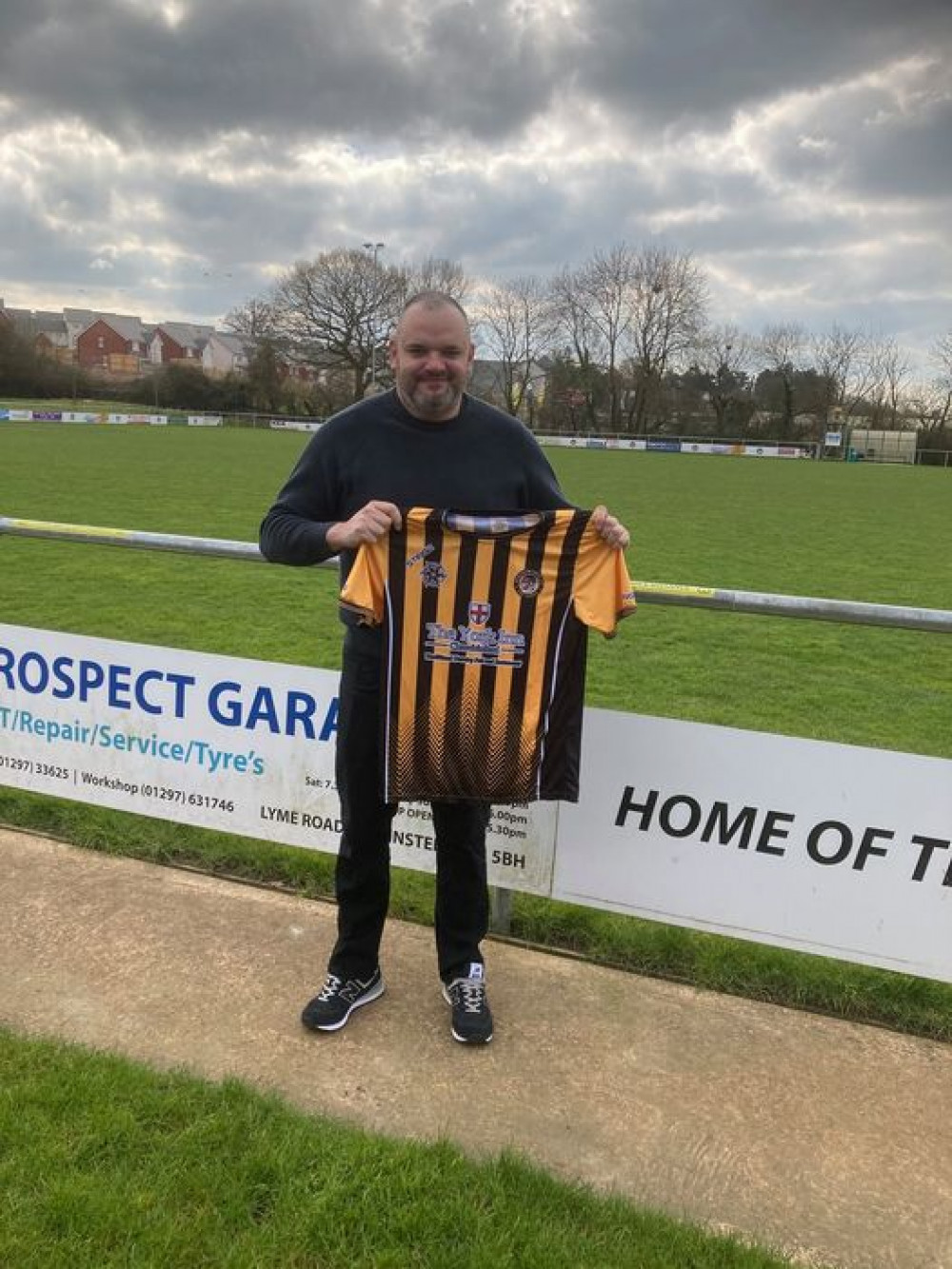 Axminster manager Dan Prettejohn who in his first season as boss took the Tigers to their best ever position in the South West Peninsular Premier East division.
Axminster Town are capable of improving on last season's sixth place in the South West Peninsular League East with their existing squad.
That's the view of manager Dan Prettejohn who is his first year in charge of the first team steered the Tigers to their best ever season.
In an exclusive one-on-one interview with Nub News sports editor Philip Evans, Prettejohn reveals he hopes to sign a couple of new faces, but he is confident his existing squad are capable of improving on sixth place, especially if they can turn the number of draws last season (12) into victories and they have already shown they are capable of beating anyone in the league.
Prettejohn, who thinks most of last season's squad will stay at the club, also has some pretty strong words for those spectators at Tiger Way who constantly bemoan the lack of local players in his squad.
And he has very strong views on the sustainability of paying players.
This is the interview in full:
PE: Dan, last season was your first at South West Peninsular League level and Axminster finished in sixth place, their highest position ever in the Premier East Division. You must feel satisfied to have achieved this?
DP: Now the dust has settled on my first season, satisfaction describes my feelings remarkably well. Two good cup runs and a 6th place finish is definitely a higher achievement than the original aim to stay in division and try and better previous league standings. A foundation has been laid and hard work begins to improve on level the bar now rests at.
PE: What was the most pleasing factor of the season for you?
DP: Most pleasing part of the season was the fact that we did not reach the back end of January and start February with not much to play for. Cup quarter finals and right up to last game of the season we had more to play for than just personal pride.
PE: What was your biggest disappointment of the season?
DP: The biggest disappointment was, and usually always is in football, of what might have been. Twelve draws in a season is too many and flipping it round to only losing seven games is not what we as a group are about. Too many draws cost us momentum and valuable points when others above us had slipped up.
PE: Which players did you feel were key in finishing in the top six?
DP: To be honest all the lads played a massive part. Any squad is only as strong as their last sub. It's a 'win-together-lose-together' attitude we have tried to build.
PE: Who would you choose as your personal player of the season and why?
DP: My choice was Chris Mcgrath, almost ever present, and functioning in a very strong back-line which at times boasted the best defence in the league. The players picked Jamie Price and so did the supporters, but Jamie can't shine if his centre back partner isn't supporting him.
PE: How many of last season's squad do you expected to be playing for Axminster next season?
DP: Most - if we are lucky. All seem keen to build on what's been started a couple may seek new surroundings but we will be hoping not to lose too many as the group worked well together.
PE: Have you secured any new signings for next season?
DP: Two new faces have already joined up with the squad for pre-season training and out of respect for the new lads they will be announced and on show in the friendly fixtures coming up very soon. For now I want them to integrate with the group and get settled.
PE: In one of your match day programme columns you made reference to the players not being local but certainly being committed. Was this in response to a view regularly expressed by some supporters that there are not enough local players in the squad?
DP: Lack of local players is always a gripe thrown at the club. My question back at that is where are they? Training and the club is open to everyone. Some local lads that played here used the change of manager and not knowing me as a factor to go play at other clubs with their mates and far less travel and best of luck to them.
My job is to produce a squad that's settled and performs for the club and one that supporters can name every lad with a Tigers shirt on (which I believe I have done) . Or do the doom merchants want me to go and try and poach players from Lyme, Beer, Seaton, Millwey Rise and Colyton .
Every local player assesses their own ability and know where they will enjoy playing most. Axminster Town's door is always -and always will be open - to anyone who wants to test themselves or think they are good enough to play in Step 6 and above regardless of post code . Local players improve clubs but they need to want to be there or see progression not just because they can walk to the ground.
PE: Axminster Town have a dedicated team of volunteers who work tremendously hard behind the scenes. Do the players who don't live locally appreciate the amount of work put in by the volunteers?
DP: I think the lads appreciate the volunteers more because they are not connected in some way and love the enthusiasm of each and everyone of the helpers who have made them welcome and also more likely to stay.
PE: The club has decided not to field a Reserve side next season but to concentrate on youth by forming an Under 18 side in the midweek floodlit league. What's your view on this initiative?
DP: Last few questions I believe are all connected. The Reserves were pulled because not enough players could be found. The club's pathway through youth (which is an unbelievable section, if not the best thing about the club) is much clearer with all age groups catered for and the conception of an under 18s is perfect for the lads of 16 years of age to play at the under 18 age range with the next natural step being a new Reserve side. And more local lads knocking at the first team door.
PE: Do you think it will ever be possible to finish above sixth place without increasing the players' budget to secure better players? Is the current squad capable of challenging for a top-two place?
DP: This squad have shown capabilities to beat anyone in this league on their day. If draws can be turned into wins, then we should definitely be looking to better 6th. As for top two - why not? I back this squad so the question of budget increase is not a necessary one .
PE: Is it sustainable for a team which attracts an average of 90-100 spectators through the turnstyle to continue paying players?
DP: I can assure you it wouldn't be done if it wasn't. Yes, there is tremendous support from outside sponsors and players finding their own sponsors so the burden isn't with the club. Heard so many clueless people only ever talk about this subject and still not heard anything remotely accurate. We have players that when younger earned good beer money. Now it's about fuel costs and leaving work early concerns.
Prettejohn will unveil his new squad at the club's first pre-season friendly against Tiverton Town at Tiger Way on Tuesday, June 28 (kick-off 7.30pm).