Spending locally is a big deal for Axminster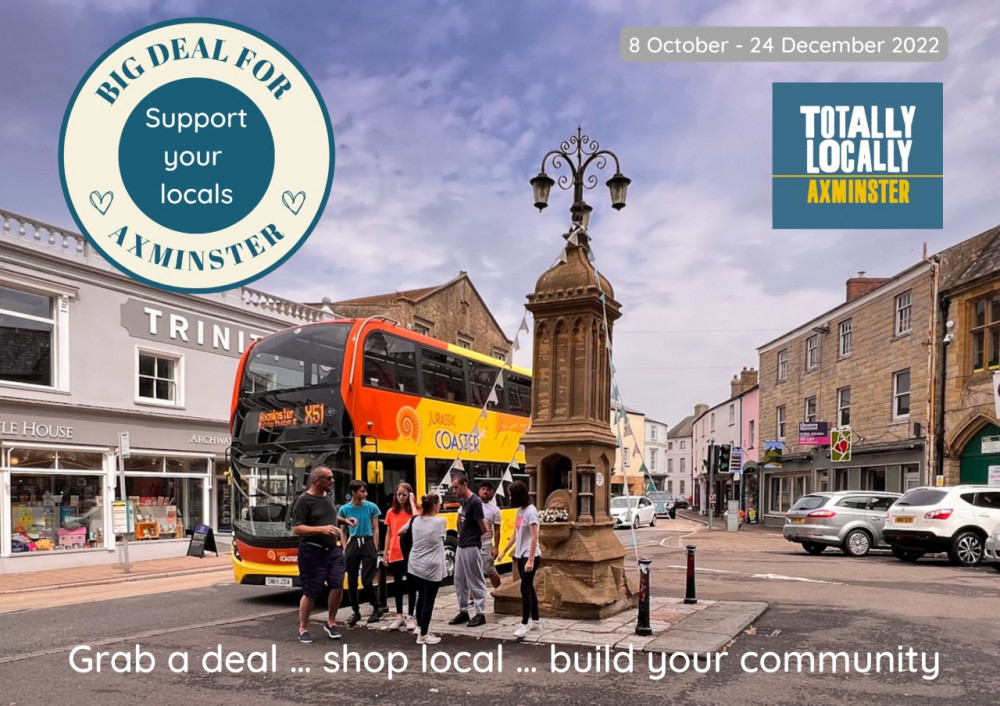 Axminster Chamber of Commerce and Totally Locally will launched the 'Big Deal for Axminster' campaign in October
Axminster Chamber of Commerce is set to launch an autumn fight back against the various pressures facing the town's businesses, while introducing deals that will help the community cope with the cost of living crisis.
Through its Totally Locally Axminster offshoot, the Chamber is putting together a plan for a three-month 'Big Deal for Axminster' initiative, starting on October 8, designed to help traders of all types raise local awareness of all that is on offer and of the long-term benefits of putting whatever spend is available into the local economy.
The Chamber has also launched a new business directory www.axminsterbusinessdirectory.co.uk as part of its drive to promote local traders of all types. Businesses can rake their listing by simply registering on the site.
"A lot of businesses in the town centre in particular are telling us that footfall has substantially reduced in recent weeks as people have recognised the scale of the challenge facing them through the coming winter," said Chamber chair Jane Rockett.
"We very much recognise the fears that exists over energy bills in particular and understand that people are bound to be cautious.
"Our hope is that they will appreciate the benefits of the good value deals on offer and recognise that if they are able to source their needs in Axminster while also eating and drinking in the town, it will help to ensure the future of some businesses."
She added: "We have already seen some of our town centre businesses closing over recent months. The run to Christmas is now crucial – a small change in behaviour really will represent a big deal for Axminster."
The planned closure of the local branch of Lloyds bank – the last bank in the town - has come as an unwelcome further blow for the town's economy. The Chamber is working closely with Axminster Town Council to find ways to at least soften the impact.
"Axminster has a lot to offer on all fronts and new businesses are appearing all the time," said Ms Rockett.
"Our various councils are working hard behind the scenes to build a better future. If we all get behind them with our strong sense of community then it will remain a great place to live and do business."
The 'Big Deal for Axminster' will be launched on Saturday, October 8 and run through until Christmas. The first round of deals on offer will be publicised during the week before and then renewed at intervals to keep the programme fresh.
Social and other media will be used to promote not just offers but the businesses behind them.
Traders who have previously supported the Totally Locally Axminster 'Fiver Fests' will this time be able to choose whatever price point works for their business and their customers.
The key message remains that if every adult spent £5 a week in Axminster that they would otherwise have spent elsewhere (or online) the value to the local economy would be £1.8 million each year.