Leader and chair of East Devon District Council both re-elected for another year
By Joe Ives - Local Democracy Reporter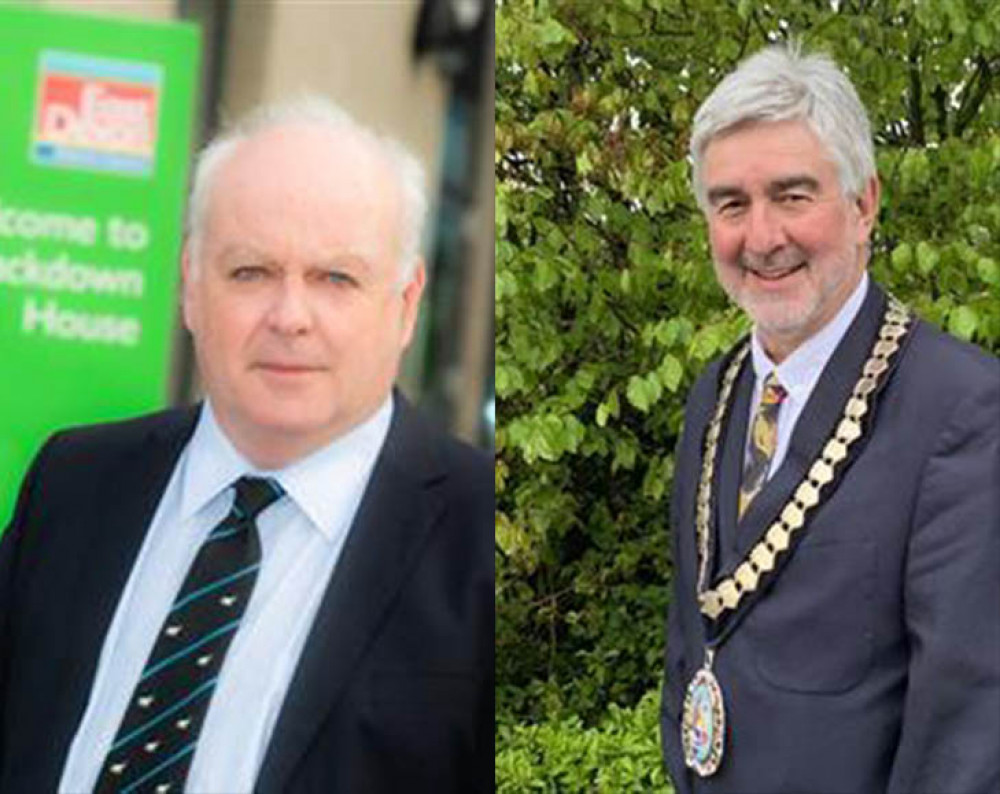 Cllr Paul Arnott (left) and Cllr Ian Thomas both continue as East Devon District Council's leader and chair respectively
Both the leader and chair of East Devon District Council has been re-elected to serve another year.
Author and former TV producer Cllr Paul Arnott, from Colyton, was re-elected as leader.
He has served as leader of the council since May 2020 and has been a district councillor since 2019. He also serves on Colyton Parish Council.
Though elections for seats on the district council take place every four years, the position of leader is chosen by councillors annually.
In 2021 Cllr Arnott had to fend off Conservative candidate councillor Colin Brown ( Dunkeswell and Otterhead), winning by 29 votes to 21.
The process was much more straightforward this year with no other candidates coming forward.
Cllr Arnott leads the council through a coalition called the Democratic Alliance Group.
This alliance consists of independent councillors who are part of the East Devon Alliance, of which Cllr Arnott is a member, other independents who are not part of a group, plus Liberal Democrats and Greens.
The council's two Labour members were part of the coalition until earlier this year.
Cllr Arnott was re-elected at the council's annual meeting.
Speaking after the vote he thanked officers and coalition members for their work on Cranbrook, adding: "We so understand the frustrations of the people, and of the three members elected to this chamber to represent their interests.
"They have shown faith in us, and in return we will continue to deliver for them this year."
He continued: "All the good stuff we want to do to improve the quality of life for the people of East Devon is always – always – underpinned by economic rationale.
"I have been very pleased that the analytical work we have undertaken regarding our key tourism sector, our entertainment and cultural sectors, and the many challenges facing sport and leisure, are all based on how we can create growth, or reallocate funding thoughtfully to face the economic challenges."
He said that in the coming year his administration would focus on linking up "buzzing communities in places like Axminster, Honiton, Ottery St Mary, Seaton and Sidmouth" and helping to address the housing shortage facing East Devon.
He said the council had been taking "strong action" against climate change but must do more and push towards "fully joined-up policy and engagement" on the issue.
Cllr Arnott also warned that it would be a "massive challenge" to weather rising inflation while keeping the council's key projects and services on track, especially with limited support from government.
'Forward thinking and professional' chair re-elected
Cllr Ian Thomas, was also re-elected to continue as chair of East Devon District Council, having been described as "forward-thinking and professional".
Independent Cllr Thomas has represented the Trinity ward, which includes Uplyme, Rousdon and Combine, and Axmouth, since 2015.
Cllr Chris Wright (Independent, Exmouth Littleham), who made the nomination, said: "Cllr Thomas has, in my opinion, undertaken the role of chair in this last year with integrity, skill and a firm but fair approach across the political divide.
"Forward-thinking, professional and I believe truly independent, I know Ian is respected by officers and fellow councillors and has been a credit to the council beyond the four corners of a conventional meeting room or, more often, via a live-streamed event, ensuring the business of the council is undertaken in a timely and effective manner."
Cllr Jess Bailey (Independent, West Hill and Aylesbeare), who seconded the nomination, said that Cllr Thomas had been an "excellent" chair over the last year.
She continued: "He's always struck the right balance between being firm and fair as chair.
"He's reasonable and experienced and I think he would make an excellent chair for the forthcoming year."
Following his selection, Cllr Thomas thanked councillors for their support and said he looked forward to working with councillors across the political spectrum "in what is going to be an interesting, entertaining and possibly challenging year".
Councillor Val Ranger (Democratic Alliance Group, Newton Poppleford and Harpford) was reappointed as the council's vice chair.