Former police officer completes 24-hour endurance challenge in aid of Axminster charity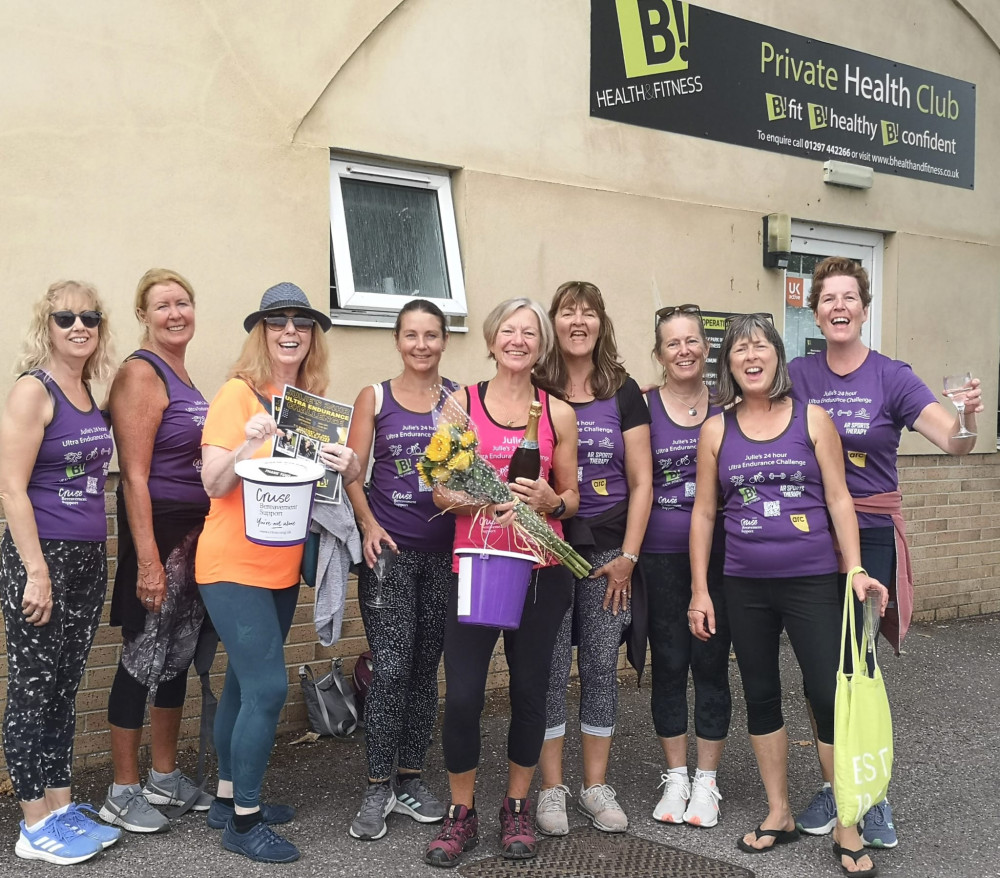 Julie Corbin and friends from B! Health & Fitness in Lyme Regis celebrate completing her challenge (photo courtesy of Lynnette Ranvenscroft)
An Axminster charity has benefited from a gruelling 24-hour endurance challenge, completed earlier this month by retired police officer Julie Corbin, from Uplyme, to mark the 21st anniversary of the 9/11 terrorist attacks in America.
After months of training, Julie started her challenge at 1.46pm on September 11 – 8.46am in America, the time at which the first plane struck the North Tower at the World Trade Centre, New York, in 2001.
Julie, now 56, a former detective constable who served with Dorset Police for 17 years, was serving as family liaison officer at the time of the attacks and was sent to New York with a fellow Dorset officer, Detective Constable Sandy Goldsmith, to help victims there, and later some who returned to Britain.
She took part in the 24-hour endurance challenge to raise funds for bereavement charities Cruse and Arc, based in Axminster, which she felt were appropriate choice to mark the anniversary.
She completed her challenge on the afternoon of Monday, September 12 outside Lyme Regis gym B! Health & Fitness, after cycling, swimming, kayaking, weight-lifting and taking part in yoga, cardio and spin classes.
She has so far raised more than £2,000 for her two chosen charities. Julie said this would not have been possible without the love and support of her family, friends and gym buddies from B! Health & Fitness.
"They were with me every step of the way and we are all delighted to have raised so much money for two wonderful local charities," she said.
You can still donate to Julie's fundraising efforts on the JustGiving website at justgiving.com/team/JulieCorbin-UltraEnduranceChallenge